Playing Warcraft 2 Battle.Net Edition with Windows XP/ Windows 2000
Many players have had problems playing War2BNE on system with WinXP or Win2k as their operating system. What happens is, any game that you try to join, ends up saying that your latency to the game creator is too high.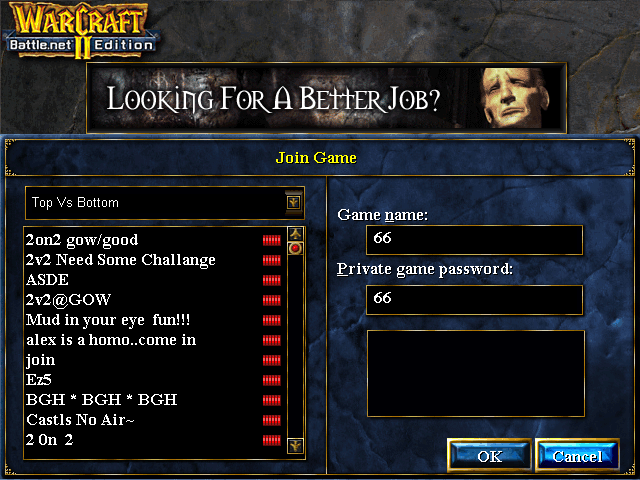 The problem is that those 2 versions of windows have an firewall built right into them. If you disable windows firewall, and use your own, you should be ok. Here is what you do as pointed out by Lala_DC.
- download (the freeware) "tiny personal firewall" from http://www.tinysoftware.com and install it.
Update: I uploaded the personal firewall on this site since it is so hard to find on their site now. You can download it right here.
- On the "Firewall" tab, check "Firewall enabled" and select the "Don't Bother Me" level.
- Click on "Advanced..."
- On the "Filter Rules" tab, click "Add..."
- Create a Filter Rule using the following settings:
Description: whatever you like
Protocol: ICMP
Direction: Incoming
Set ICMP...: [3] Destination Unreachable
Remote Endpoint Adress Type: Any Address
Rule valid: Always
Action: Deny
Log when this rule match: Unchecked
Display alert box when this rule match: UnChecked
Done

Disabling Window XP's Firewall
I've heard from a few people that disabling the built-in firewall can sometimes help. This is easy to do from the control panel in windows XP. If you need additional help there are 1000's of sites on the internet.